This week i recieved my first review copies!!! I'm really excited to get the chance to review some of these books for the authors and i really can't wait to read all of them! Also, sorry for the books without pictures, it seems my computer is having technicall difficulties right now and im not able to put them on! :( But they are really great books so be sure to check them out!
Recieved: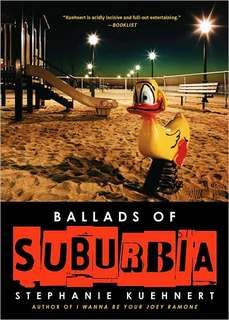 Ballads of Suburbia
by Stephanie Kuehnert
Plot
Kara hasn't been back to Oak Park since the end of junior year, when a heroin overdose nearly killed her and sirens heralded her exit. Four years later, she returns to face the music. Her life changed forever back in high school: her family disintegrated, she ran around with a whole new crowd of friends, she partied a little too hard, and she fell in love with gorgeous bad-boy Adrian, who left her to die that day in Scoville Park....
Amid the music, the booze, the drugs, and the drama, her friends filled a notebook with heartbreakingly honest confessions of the moments that defined and shattered their young lives. Now, finally, Kara is ready to write her own.
by Becca Fitzpatrick

Plot
For Nora Grey, romance was not part of the plan. She's never been particularly attracted to the boys at her school, no matter how much her best friend, Vee, pushes them at her. Not until Patch came along.
With his easy smile and eyes that seem to see inside her, Nora is drawn to him against her better judgment.
But after a series of terrifying encounters, Nora's not sure who to trust. Patch seems to be everywhere she is, and to know more about her than her closest friends. She can't decide whether she should fall into his arms or run and hide. And when she tries to seek some answers, she finds herself near a truth that is way more unsettling than anything Patch makes her feel.
For Nora is right in the middle of an ancient battle between the immortal and those that have fallen - and, when it comes to choosing sides, the wrong choice will cost her life.
by Jennifer Laurens

Plot
I met someone who changed everything. Matthias. My autistic sister's guardian angel. Honest. Inspiring. Funny. Hot. And immortal. That was the problem. What could I do? I did what any other girl would do-I fell in love with him. Zoe's sister darts in front of cars. Her brother's a pothead. Her parents are so overwhelmed; they don't see Zoe lost in her broken life. Zoe escapes the only way she knows how: partying. Matthias, a guardian sent from Heaven, watches over Zoe's autistic sister. After Zoe is convinced he's legit, angel and lost girl come together in a love that changes destiny. But Heaven on Earth can't last forever.
by Thomas Fahy

Plot
SOMEONE ELSE WILL DIE SOON,
she tells herself.
SOMEONE ELSE WILL DIE, AND I'LL BE RESPONSIBLE.
A few days after the first time you
walk in your sleep, you kill someone.
That's how the end begins
Emma Montgomery has been having gruesome nightmares. Even worse, when she wakes up, she isn't where she was when she fell asleep. And she's not only the only one. One by one the students of Saint Opportuna High start having the nightmares, and sleepwalking. And the next morning one of their classmates turns up dead.
Something is making them kill in their sleep. Emma and her friends need to band together, to keep themselves awake until they can figure our what's behind the murders—before anyone else dies.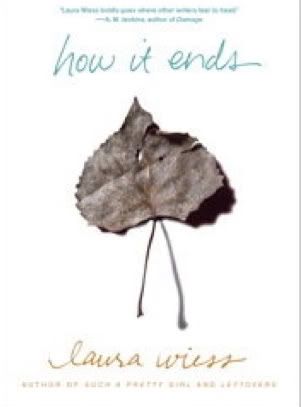 How It Ends
by Laura Weiss
Plot
All Hanna's wanted since sophomore year is Seth. She's gone out with other guys, even gained a rep for being a flirt, all the while hoping cool, guitar-playing Seth will choose her. Then she gets him — but their relationship is hurtful, stormy and critical, not at all what Hanna thinks a perfect love should be. Bewildered by Seth's treatment of her and in need of understanding, Hanna decides to fulfill her school's community service requirement by spending time with Helen, her terminally ill neighbor, who she's turned to for comfort and wisdom throughout her life. But illness has changed Helen into someone Hanna hardly knows, and her home is not the refuge it once was. Feeling more alone than ever, Hanna gets drawn into an audiobook the older woman is listening to, a fierce, unsettling love story of passion, sacrifice, and devotion. Hanna's fascinated by the idea that such all-encompassing love can truly exist, and without her even realizing it, the story begins to change her.
Until the day when the story becomes all too real...and Hanna's world is spun off its axis by its shattering, irrevocable conclusion.