Laurie Halse Anderson, writer of books Speak, Catalyst, Wintergirls and others has been so kind as to answer a few of my questions both for me and for you! Hope you enjoy!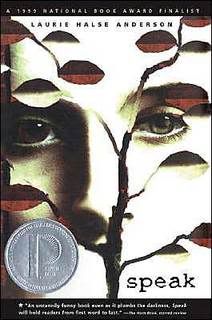 Laurie Halse Anderson Interview
Question #1
Speak was your first novel and adressed two very important issues in teenagers and adults a like, rape and depression. How do you feel knowing that this book is used to teach students today about these problems?
I am humbled that something I created is being used in schools around the country.
Question #2
How did you come up with the characters Melinda and Kate? Do you put a little of you or people you know into them?
All of my characters appear to me in my head. I have a very vivid imagination, always have. Melinda appeared to me in a dream so vividly that I had to listen to her story. I suppose I could find things in each of my characters that remind me of people I know, but we all can.
Question #3
Has anyone ever came up to you and told you about how one of your novels changed their lives? If so, how did you feel about that?
I meet people on tour, at book signings, at conventions who tell me how reading one of my novels has helped them in some way. I receive lots of emails from readers who have been touched by my work. I am humbled that something I did had a positive impact upon someone's life, then I am very stoked. Although, it saddens me that our teens are going through such tough times and dealing with some really nasty issues, I find hope in their reaching out to me to express their thoughts and feelings about my novel.
Question #1
How do you get into the mood of writing? Do you have any rituals or favorite places to go?
My husband has created a wonderful writing cottage for me to escape to in order to write. It is almost done, and I have spent a little bit of time there all alone. The vibes were GREAT!!!!
Question #5
How hard was it to break into the writing industry? Did you have a lot of trouble or did it come fairly easy?
I don't feel as though it was easy. I received hundreds of rejection letters and did hundreds of revisions to my work. I knew what I enjoyed doing, I had a plan, and I went for it. If I was not a published author by a certain, realistic, date, then I was going to go to nursing school to support my daughters. I do feel that it was all worth it!
Question #6
Do you have any advice for aspiring writers?
Turn off the computer, TV, PS2, whatever, and just write. Pen to paper. Be ready to rewrite! Make a plan, adjust when necessary, but stay focused.
Question #7
What do you like to do in your spare time? How has that changed from when you were a teenager to now?
I love to garden, read and hang with my family. When I was a teen, I really just liked to read!
Question #8
Can you tell the readers something about yourself that not too many people know?
i love spicy food!