Flipped
by Wendelin Van Draanen
Rating: Great
Difficulty: Normal
Pages:212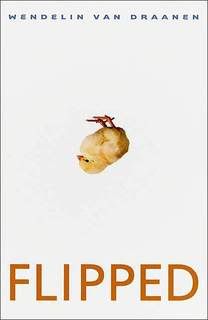 Synopsis
The first time she saw him, She flipped. The first time he saw her, he ran. And from the second grade to the seventh, that's how it was. She says: "My Bryce. Still walking around with my first kiss." He says: "It's been six years of strategic avoidance and social discomfort."
But in the eighth grade, their views of the world- and each other- turn upside down. He says: "I'd spent so many years avoiding Juli Baker that i've never really looked at her, now i couldn't stop." And she says: "I felt a cold, hard knot tighten in my heart. I was through with Bryce Loski." Is there hope for happiness in junior high?
Have you flipped?
Review
I LOVE stories that are in two different points of view, especially this one. It tells the basic story of middle school love- girl likes boy, boy hates girl, something changes and then girl is done with boy and boy is crazy for girl! It's really adorable and very eye opening. It takes an in depth look at two totally different families- one rich and privileged and another humble and not so rich. Also it takes a look at the different views of a relationship between two different genders. If you're a girl and you read Flipped you might think "god do i act like that?" and if you're boy and read Flipped you might think "wow we're jerks!". That's one of the best things about a story like this- seeing through someone else's eyes and seeing how you really are. Julianna is an energetic love sick girl, while Bryce is laid back and tries to avoid Juli at all costs. They are really interesting characters because they are totally opposites- Juli is artistic and rather deep and Bryce is shallow and well, a boy! In the end they begin to see things totally different and begin to understand each other a little better! I love this book!!