Speak
by Laurie Halse Anderson
Rating: Incredible
Difficulty:Easy
Pages: 198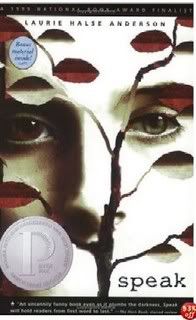 Book 1- 48 Hour Book Challenge!
Synopsis
(from inside flap)
Melinda Sordino busted an end of the summer party by calling the cops, so her old friends won't talk to her, and the people she doesn't know hate her from a distance. It's no use explaining to her parents; they've never known what her life is really like. The safest place for Melinda to be is alone, inside her own head. But even that's not safe. Because there's somethings she's trying not to think about, something about the night of the party that is she admitted it and let it in, would blow her carefully constructed disguise to smithereens. And then she would have no choice. Melinda would have to speak the truth.
Review
So this is the first book i've read for the Mother Reader 48 hour book challenge. I read this book straight through from 8:15 to 11:20! It was pretty intense to say the least- poor Melinda is hated and ridiculed all because she called the cops at a end of the summer party. Laurie Halse Anderson couldn't have gotten the dialogue of modern day teenagers any better, the way she writes makes you feel as if you are right there with Melinda, sharing her pain. I think IT (Andy Evans) is one of the most terrifying characters in novel history, even though he only makes a few appearences in the book, he is a major contibution to Melinda's overwhelming fear of remembering that night.This book is often taught in schools around the U.S. as guidelines and warnings against rape and depression, something that is a really underground problem in today's society. This is a great book and you will find all the charaters and especially Melinda very close to home! If you anywhere between 13 and 18 this is a must have book!