A Walk To Remember
by Nicholas Sparks
Rating:Incredible
Difficulty: Normal
Pages: 240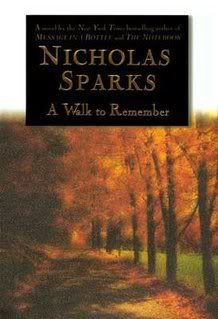 Synopsis
Every April when the wind blows in from the sea and mingles with the sent of lilacs, Landon Carter remembers his last year at Beaufort High.
It was 1958, and Landon had already dated a girl or two. He even swore he had been on love. Certainly the last person in town he thought he'd fall for was Jamie Sullivan, the daughter of the town's Baptist minister.
A quiet girl who always carried her bible with her schoolbooks, Jamie seemed content living in a world apart from the other teens. She takes care of her widowed father, rescued hurt animals, and helped out at the local orphanage. No boy had ever asked her out.
Landon would never have dreamed of it. Then a twist of fate made Jamie his partner for the homecoming dance, and Landon Carter's life would never be the same. Being with Jamie would show him the depths of the human heart and lead him to a decision so stunning it would send him irrevocably on the road to manhood...
Review
Nicholas Sparks is one of the greatest writers out there and no matter what age you are- young, old or in the middle- you can find some quiet happiness with any one of his books. With those of you familiar with the intensely heart warming story of The Notebook you will LOVE A Walk to Remember. It chronicles the story of Landon Carter, a young boy foolish and immature with adolescents. And then he meets Jamie, the iconic minister's daughter who is too-good-to-be-bad. The only difference between those goody-goody's and Jamie is that she is actually really, truly- good hearted. Through unforeseen circumstances they are suddenly thrown into each others lives and consequently change each other forever. This book is uplifting and heartbreaking at the same time, Nicholas Sparks has a expert way of tugging at all possible emotions in one novel. He knows exactly what buttons to push to make you cry and laugh and just think. The things that is most appealing about this book is the humble and sweet Jamie Sullivan- she doesn't even blame God for her more then unfortunate illness and continues to help others when her herself needs help also. This book is innocent and young and soooo great. It is definitley something you need to have on your shelf!