Tuck Everlasting
by Natalie Babbitt
Rating: So so
Difficulty: Normal
Pages: 139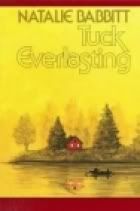 So this is my third book in the 48 hour book challenge! I was up till after midnight reading it and it proved to be very good!
Synopsis
Doomed to- or blessed with- eternal life after drinking from a magic spring, the Tuck family wanders about trying to live as inconspicously and comfortably as they can. When ten year old Winnie Foster stumbles on their secret, the Tucks take her home and explain why living forever at one age is less a blessing than it might seem. Complications arise when Winnie is followed by a stranger who wants to market the spring water for a fortune.
Review
I've always been real interested in reading this book- my mind sometimes wanders by it when im in a book store but i always brush it off in favor of a newer one. I went to the most unexpected place this weekend (goodwill lol) and saw it sitting there for just 99 cents if you can believe it so i though "why not?". This book is alot more fairy tale then reality but a good fairy tale at that. I only labeled it So so because it was rather short for my taste, it only took me two hours to read! Haha The best character in this whole story has to be Jesse Tuck, a seventeen year old boy "doomed" to live forever. He captures the heart of Winnie Foster and you can't help but swoon over him also. In the book Winnie and Jesse's relationship is purely innocent- just two kids who don't know anything about love but find themselves deep in it.
Spoiler!!!!!! It has a rather sad ending though and you cant help but feel heartbroken for there lost love. Spoiler over:)
Winnie Foster is deliciously child like and nieve but she plays a big part in saving the Tuck's skins. This is a great story and though it might not be catagorized in YA it will still charm your socks off!
Reviewed By
Christina!!