The Slow Moon
by Elizabeth Cox
Rating: Great
Difficulty: Normal
Pages: 300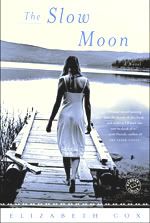 Synopsis
On an early spring night in 1991, Sophie and Crow, flushed with anticipation, slip away from a rowdy high school party and sneak off into the woods. Tonight, for the first time, they will make love. An hour later, Sophie lies unconscious, covered with blood, and Crow is crashing through the underbrush, hurling himself into the river to escape the police. . . .
What was meant to be an idyllic, intimate evening has turned into a nightmare. Despite Crow's frantic claims of innocence, evidence at the scene suggests his guilt. And Sophie, by now awake in the hospital, refuses to speak, leaving the residents of the couple's seemingly placid Tennessee town to draw their own wildly varying conclusions.If Crow isn't to blame, then who assaulted Sophie, and what compelled Crow to flee? With each answer comes a new set of questions. Elizabeth Cox's vibrant and lyrical narrative revisits the events leading up to the fateful night, then shows how the tragedy reverberates throughout the community, among parents, friends, teachers, and neighbors–all connected to the young lovers, all with a stake in what happens next. As growing suspicions divide the town, a closer look reveals that everyone has something to hide.
Review
Wow i was really impressed by the sheer intensity of this book! It has alot of different sub-plots that have to do with marriage, infildelity, homosexuality and family bonds. After reading this i wouldn't really call it a YA book but it definitly has that taste to it. It has great contrast between the adult lives and relationships as well as the teenage crushes and friendships. One of the main characters, Sophie is brutally gang raped and the whole town seems to be effected by this, nobody can believe that something so horrible could happen in their little small town in Tennesse so it's a really big dose of hard reality. You can clearly see how each charcter is truly affected by the rape and among the rape there is also a heap of lies and mysterious goings-on in the town. Crow another main character in the story is kind of the classic american boy caught up in a whirl wind of a catastrophy, he means nothing but good yet, he's found himself stuck in this horrible situation. I really feel for this guy, as well as the other equally as piercing characters in the story. This book really deals with a lot of issues and it kind of reminds me of a really good, not so cheesy episode of all my children or some other day time soap of that sort. Completely orginal yet oddly familiar this story will take you on a crazy ride through love, lust betrayal and heartbreak! You gotta read this!