Feeling Sorry for Celia
by Jaclyn Moriarty
Rating: Great
Difficulty: Normal
Pages:276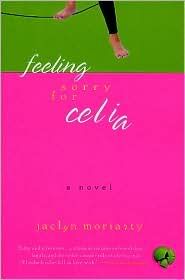 Synopsis
A first novel of refreshingly original letters exchanged between teenage friends, refrigerator notes from a madcap mother, and darkly comic epistles from the heroine's internal voice of self-doubt.
The Association of Teenagers" is coming down pretty hard on Elizabeth Clarry. What is she to do when her best friend Celia keeps disappearing, her absent father suddenly reappears, and her communication with her mother consists entirely of wacky notes left on the refrigerator? And now, because her English teacher wants to rekindle the "Joy of the Envelope" in the "Age of the Internet," a complete and utter stranger knows more about Elizabeth than anyone else.
But Elizabeth is on the verge of some big changes. She is about to outgrow a friend, discover a great new friend, kiss the sexiest guy alive, and run in a marathon. Who needs "The Association of Teenagers" anyway?!
Review
OKay so this is definitly the most original book i have ever read...written completely in letters, Feeling Sorry for Celia is a very different coming of age novel. Elizabeth is a witty and hilariously troubled girl, with her wacky best friend Celia and her ever absent but caring mother, she tries to find her way through life and highschool with little guidance and a lot less experience. She gets numerous letters from imaginary organizations like "The Cold Hard Truth Association" and "The Young Romance Association" and has to cope with the re-entry of her long absent father, while dealing with her best friend Celia's many runaway attempts. It can be a little confusing with the whole letter thing but it also makes for a really funny narrative. Elizabeth's insecure worries and sarcastic remarks will have you busting a gut laughing but also looking inside yourself for that same unsure and incomplete girl- just looking for a way to get on with life. Read it!