The Truth About Forever
by Sarah Dessen
Rating: Good
Difficulty: Normal
Pages:374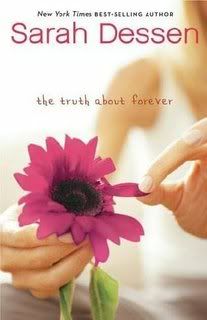 Synopsis
A long hot summer- that's what sixteen year old Macy Queen has to look forward to. Her boyfriend, Jason, is going away to Brain Camp. She's stuck with a dull-as-dishwasher job at the library. And all of her free time promises to be spent studying for the SATs or grieving silently with her mother over her father's death.
But everything changes when Macy is carrolled into helping out at another one of her mom's open house events, and she meets the chaotic Wish Catering crew. Before long Macy ditches her library job and joins up with the Wish gang: big hearted Delia; quiet, introspective Monica; and fun-loving, fashion-conscious Kristy. But best of all there's Wes- who gets Macy to look at life in a whole new way...
Review
So in honor of Sarah's new book Along for the Ride, i decided to read this wonderful book. Of course who doesn't love a good Dessen book but this book is especially great. It's the familiar story of a young girl bored with her life and looking for some excitement without knowing she's looking at all. Macy Queen, is just that girl, except around her town she's known by a different name- the girl who watched her father die. I don't even know how to begin to tell you how important this is to the story, the whole concept of just getting up and doing, revolves around that one moment she was one minute too late to save him. When her boring boring boring! boyfriend leaves to some smart kids camp, she stuck witha dead end job and nothing to do during a perfectly good summer. When she meets the Wish Catering crew she gets a little dose of healthy chaos and her steadily planned life is thrown into a beautiful spiral of fun, friends and flirting. Wes-ahhh Wes... how dreamy is he? Not only is he artistic and free-spirited but he's also deep and thoughtful. Through out the whole book Macy is having trouble choosing between her safe dull lifestyle and her new exciting adventure. Like i said its the ultimate story of young girl bored with life but in this book the girl finds a little light in the dull gray exsistence and along the way she finds love and herself!
Read it!!!
Love, Tina