The Lovely Bones
by Alice Sebold
Rating: Great
Difficulty: Normal
Pages: 328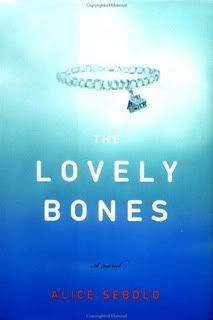 Synopsis
When we first meet Susie Salmon she is already in heaven. As she looks down from this strange new place, she tells us, in the fresh and spirited voice of a fourteen year old girl, a tale that is both haunting and full of hope.
In the weeks that follow her death, Susie watches life continue with out her- her school friends trade rumors about her disappearence, her family holding out hope that she'll be found, her killer trying to cover her tracks. A months pass without leads, Susie sees her parents' marriage being contorted by the loss, her sister hardening herself in an effort to stay strong, and her little brother trying to graasp the meaning of the word gone.
And she explores this place called heaven. It looks alot like her school playground, with the good kind of swing sets. There are counselors to help new comers adjust and friends to room with. Everything she ever wanted appears as soon as she thinks of it- except the thing she wants the most: to be back with the people she loved on earth.
With compassion, longing and a growing understanding, Susie sees her loved ones pass through grief and begin to mend. Her father embarks on a risky quest to ensare her killer. Her sister undertakes a feat of remarkable daring. And the boy Susie cared for moves on, only to find himself at the center of a miraculous event.
Review
This book is alot like Elsewhere by Gabrielle Zevin BUT alot different at the same time too. Instead of primarily going into how the dead feels after death, The Lovely Bones takes a deeper look into the healing part of a loved one dying. This is a shokingly endearing novel- told from the persepective of a young girl who was brutally murdered, it is almost as if YOU are the one watching her family from above. Now i know i say this alot- the whole "i felt like i was the character in the story" thing, but for this book it is especially true. Susie Salmon (great name by the way!) is a very ordinary yet insightful character, she pulls you in with her familiarity but keeps you there with her ghostly thoughts and haunting voice. Her mother Abigail Salmon, kind of reminds me of every typical mother out there yet, the steamy affair she holds with the investigating Detective is exciting and very, umm what do 'ya call it, sneaky. Her father Jack Salmon was really heart breaking to me because of course, I am a daddy's girl. He seems to be the person most affected by Susie's disappearence and through out the whole book he embarks on a hearty quest to find her killer and avenge his daughter. This book is fascinating and i recommend it for anyone who like Elsewhere. When you read this book expect to cry and really think about lifes lessons and treasures. Read it!
Love,
Christina!